Easy Video Maker already built-in hundreds of free Basic Static and Dynamic shapes, like below, you can easy to add them onto a video and picture to change the shapes or get cool shape effects. and please note,
A Dynamic Shape includes a group of Static Shapes.
You could add serveral Static/Dynamic Shapes onto a video/picture.
You could customize the duration time of each frame(static shape) in the Dynamic Shape.
You could press "***Customize A New Shape" to fully customize a new video shape by using pictures(.PNG files).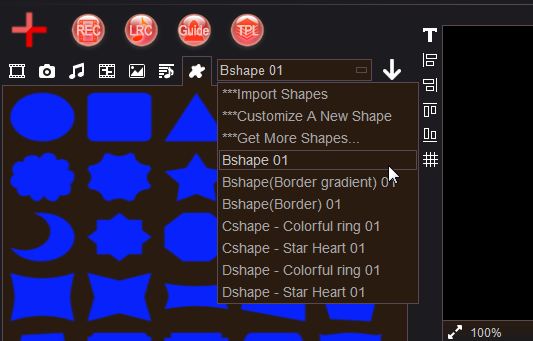 How to download and import a shape into Easy Video Maker?
Step1: Download a free Shape from the last table, you will get a .zip file.
Step2: Unzip the .zip file, you will get a .rzsf file and corresponding pictures.
Step3: Run Easy Video Maker, press "Shape tab

", then click " ***Import Shapes " and select this .rzsf file to import it.

Easy Video Maker Free Video Shapes
We will add more free shapes in the below table, of course if you would like to share your customized shapes here, please simply
mail to us
.
"Easy Video Maker, All-in-one video editing software."
Easy to Edit, Create, Make Pro-Quality 2D/3D Videos/Movies - Free and Easy To Use !