Please note, A Single License permits the purchaser to install the program on a Single PC for using by a Single user, if you need to install the program on more PCs, or install the program on one PC for using by multiple users, please simply click below link to purchase corresponding Multi-User License. A Multi-User License provides an inexpensive way for company, businesses, schools, universities or other work groups to supply their personnel with our program in a cost efficient manner.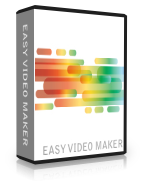 Buy Easy Video Maker - Time Limited Special Offers(40%+ Off Discounts)
Get a Powerful, All-In-One, and Easy to use Video Editing Software.
Easy to Edit, Create, Make Pro-Quality Videos/Movies.
License Key will be sent to you automatically within minutes.
Use this product forever and Enjoy Priority customer service and support.
Unlimited Free technical support service.
Please Note
If you have not found a suitable plan of your purchase, please simply mail to Sales@EasyMakeVideo.com for help.
"Easy Video Maker, All-in-one video editing software."
Easy to Edit, Create, Make Pro-Quality 2D/3D Videos/Movies - Easy To Use !